The fashion world is never constant. Trends change in the blink of an eye. What's "hot" today, will become absolutely "not" tomorrow, and you will see it ruling the fashion world again after a span of years. But, there are some pieces of jewellery that never go out of fashion. They keep receiving ample love from the ladies. One such piece of jewellery is an anklet. Anklets for women have always been a hot trend. It may take a backseat for some time, but it always bounces back and takes the fashion world by storm.
Anklets compliment every kind of attire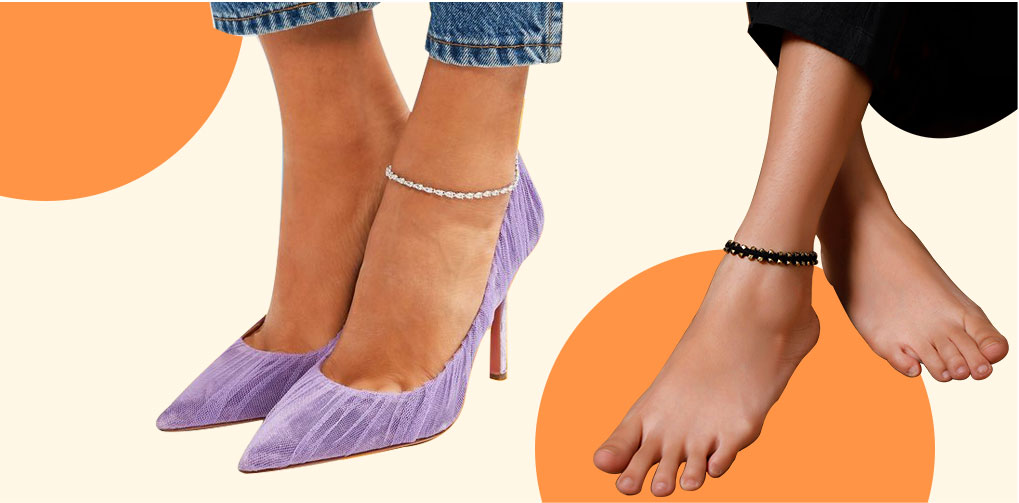 Image courtesy : cosmopolitan.com , tjori.com
Anklets are basically a close cousin of our very own payals. Or, we can say that anklets are a modern version of our Indian payals. The best thing about anklets is that they complement every kind of attire. In the times when Indo-Western outfits do the round in the fashion world, you can easily match an anklet with any Indian outfit and create a statement look. Otherwise, you can always flaunt any beautiful anklet design with western dresses like summer dresses, denim dresses, ankle-length maxis, cropped jeans, and what not? For a more glamorous occasion, you can wear a blingy anklet to complete your look. Having said that, we can certainly say that anklets for women are not mere accessories for casual outings.
It's all about your taste
If you explore the market or any online jewellery shopping store, you will find n numbers of latest anklet designs ranging from sober, glitzy, casual, studded, anklets in silver, and gold anklets for women.
You must buy an anklet depending on your personal taste and the occasion for which you want this piece of jewellery.
Here are the latest anklet designs that you will find in the market these days:
Beaded anklets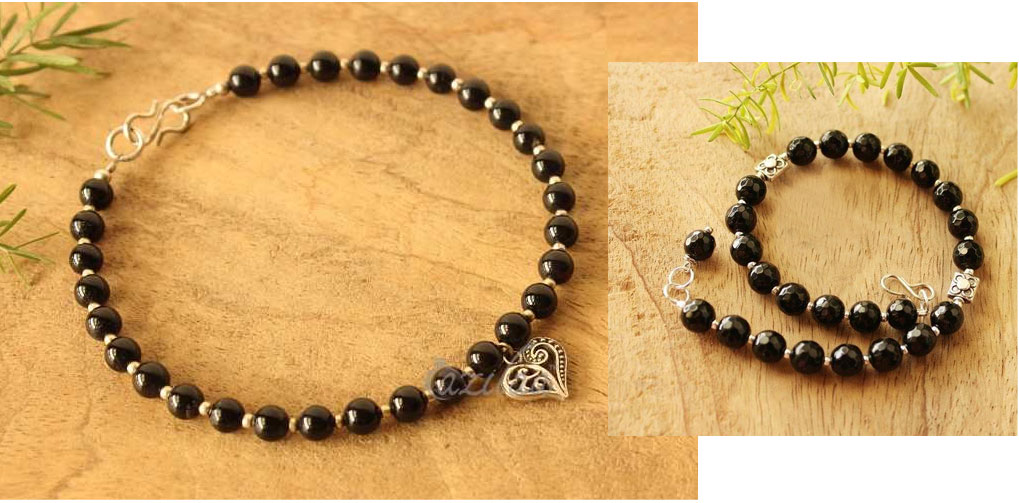 Image courtesy : azilaa.com
As their name says, these anklets are made with lots of single-colour, two-colour, or multiple-colour beads. They look very cool and casual. They can be worn on any casual occasion like brunch, a get-together, a beach party, etc.
These anklets look perfect on short summer dresses as they are very colourful. They come in a plethora of designs.
Chain anklets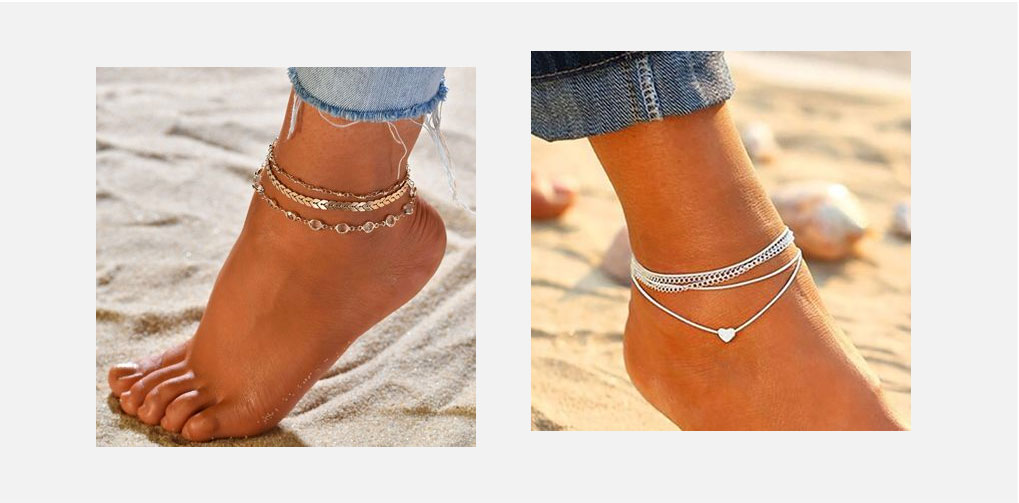 Image courtesy : modlily.com, liligal.com
These anklets are very elegant and classy. These anklets too can be worn on any occasion. If it is a casual occasion, you can keep it simple with a two-layered anklets design sans any embellishment. If it a more glamorous occasion like a party or festival, you can wear multiple-layered anklet with little embellishments dangling from the chain like studded charms, beads, etc. This gives the ankle a more elaborated look making you party-ready.
Studded anklets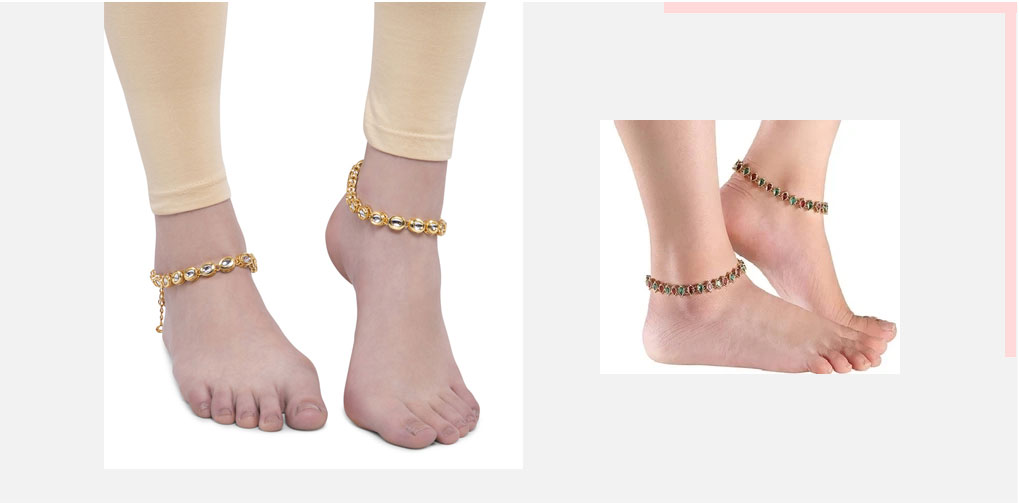 Image courtesy : theweddingbrigade.com, sareeu.com
If you are looking for the latest anklet designs strictly for a glam occasion, you can go with studded anklets. You can find these anklets in any jewellery store.
These kinds of anklets are studded with shiny crystals and stones giving them a heavier look. You can carry them perfectly with blingy outfits and stilettos. They come in many beautiful designs. These kinds of anklets can be worn with modern, as well as traditional attire.
If you do not mind splurging on this piece of jewellery, you can even consider buying a diamond-studded anklet.
Beach anklets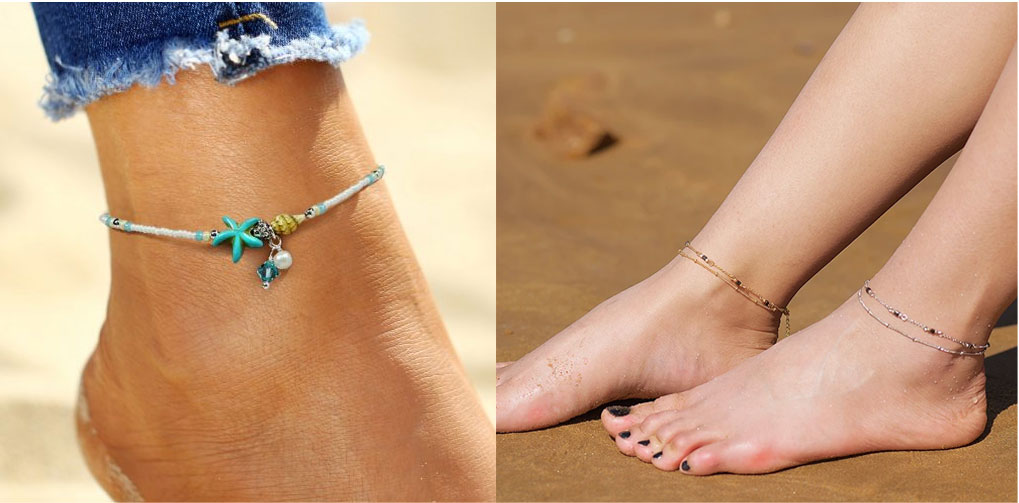 Image courtesy : passportocean.com, sparrowhilllane.com
Are you planning a holiday at a beach resort? Make sure you pack stylish beach anklets to create a bold style statement.
Beach anklets are very chic and voguish. They are bold and beautiful. Beach anklet designs are thick, bold and colourful. They are usually studded with large beads or shells as they do not get ruined in water. But, this does not restrict you from wearing them on other occasions. You can wear them with any casual outfit.
Sterling silver anklets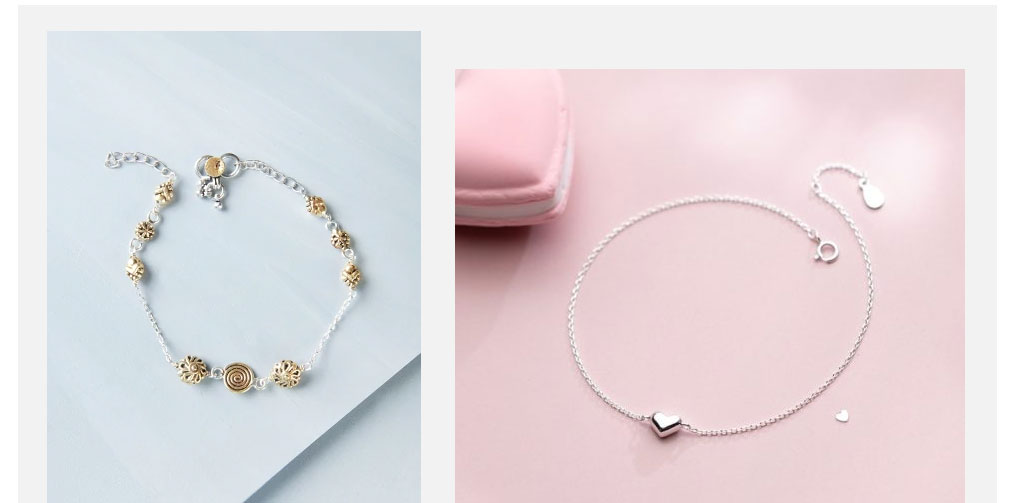 Image courtesy : pipiluxury.com, fabindia.com
Now, if you want an elegant and simple anklet with or without embellishment, you can opt for a sterling silver anklet. The latest anklet designs in silver are literally class apart. They go well with casual, traditional, modern, and sophisticated outfits.
You can wear them with cropped jeans to create fashion goals.
Gold anklets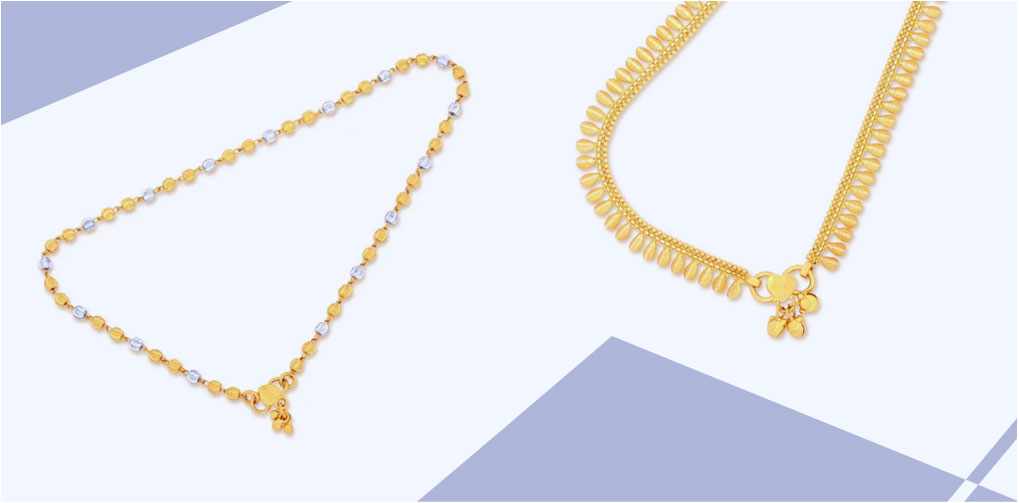 Take your love for gold jewellery to another level by adding a gold anklet in your jewellery collection. Gold anklets for women are available in truckloads of styles and designs. Whether you want a traditional gold anklet to wear at a wedding or an ultra-modern anklet for a party at the night club; you will find always have abundant options at your disposal.
You can also check gold anklet designs online but make sure you buy them from a trusted website after all buying gold in any form is an investment.
Gold anklet designs are extremely versatile. You can buy two similar anklets and wear them as payal or a single piece to wear as a modern anklet.
Woven anklets

Image courtesy : etsy.com
If you have a penchant for bohemian accessories, you can go for woven anklets. The best thing about woven anklets is that they come in many eye-catching designs and are very inexpensive. You can buy them in various colours and patterns- single colour, multi-colour, plain, embellished, beaded, etc. They are great for casual occasions.
Some styling tips
Styling anklets is not rocket science. You just need to be a little careful and you will be all set to become a fashion icon amongst your friends. Here are some anklet styling tips that you must keep in mind-
If you are wearing an anklet, make sure you team them with your most stunning footwear. As an anklet will draw attention to your feet, having footwear on point becomes a must. Anklets look amazing with summer footwear like flip-flops and sliders.
Make sure the hemline of your dress doesn't overlap the anklet. Hence, it is better to wear anklet with short summer dresses, shorts, and cropped jeans.
Now that you know that an anklet is a must-have accessory, buy different anklets for different occasions and don't forget these tips while styling them.