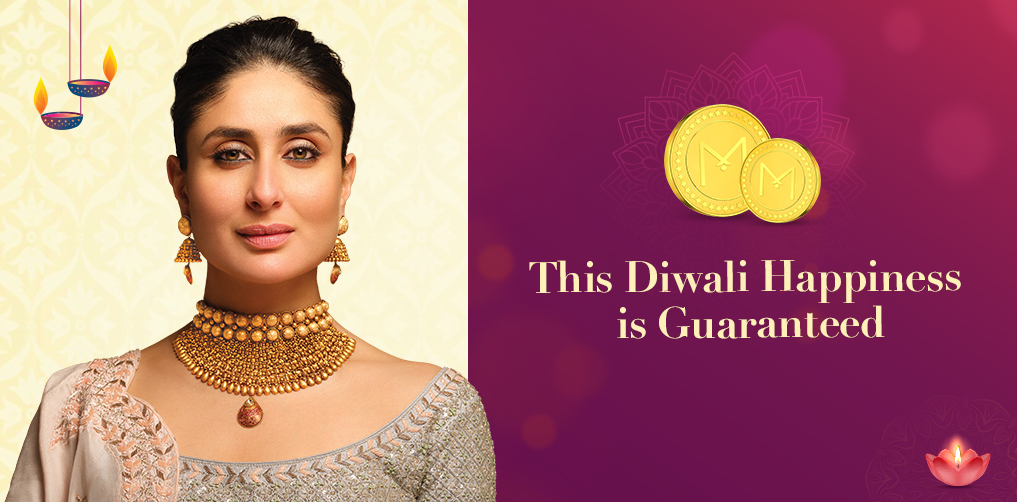 DIWALI; a festival that carries togetherness, prosperity and incomparable happiness with it. The most adoring festival is here, and glamorous jewellery with timeless designs is a must! On this festival of lights, it's a perfect time to captivate your way to shining with traditional attire. As the mark of the New Year, we carry the memorable past moments and look forward to the bright future, but the wonderful today makes everything unique. Gold is an integral part of our culture and a symbol of prosperity. It is not only known for its glamour but also as an investment. While investing in gold has often been widely believed, choosing a suitable time can immensely benefit too. With the upcoming Diwali 2021, it's a good time to bring home prosperity with gold through our phenomenal timeless collection with the touch of a glorious heritage. Let Malabar brighten the everlasting shine to your Deepavali tradition that holds us together.
• Reasons to invest in our gold.
The Auspiciousness of Diwali
Deepavali, the festival of lights, is also considered an essential occasion for Goddess Laxmi, the symbol of wealth and success. All the traditions done on this occasion, like; the lightings, sweets, offering prayers, colourful rangolis, Laxmi pooja etc., is done to welcome home her eternal prosperity and good luck. Family and friends enjoy the festivities by sharing warm wishes and Diwali gifts. Hence, the promising Deepavali festival makes it the perfect time to invest in precious gold.
Diwali Offers
Deepavali is also a time wherein you dress up in a way that's authentic to the essence of the occasion. Whether it's a traditional family gathering or a party with your friends, there's no Deepavali celebration without traditional clothing and glamorous jewellery. Our breathtaking collection is embellished with the love of classic and the fusion of contemporary, portraying the joy of togetherness. It enhances your celebrations brighter than ever, along with exciting Diwali 2021 offers.
Diwali offers:-
a) FREE 1 GOLD COIN with every purchase of Gold Jewellery worth Rs30,000.
b) FREE 2 GOLD COINS with every purchase of Diamond and Gemstone Jewellery worth Rs30,000.
Surprise your loved ones with the timeless collection of Malabar.
With the upcoming Diwali festival, there's no other better way to spread happiness with your loved ones than by gifting them jewellery that they will adore forever! Special bonds are meant to be celebrated, mainly during a prosperous occasion like Deepavali. So whether you are looking for something to gift your loving wife or sweet sister, caring daughter or for yourself, we have something unique for everyone you wish to give.
• Perfect Jewellery for Diwali Festival
Jewellery being an integral part of the celebration, rests between the lights and laughers of the Deepavali festival. With many intriguing traditions, traditional jewellery crafted with timeless artistry complements the Diwali celebration. It isn't a festival season until you get that precise insight of joy, hence enjoy every moment while adoring radiant festival looks from our magnificent collection.
Exquisite Gold Jewellery Collection- Every masterpiece at Malabar tells a unique story and is crafted with perfection. Inspired by the purity and of a woman's heart and passion for cultures, our spectacular collection depicts a sense of grandeur and festivity. This Deepavali bring home the symbol of prosperity with our astonishing collection of Gold Jewellery.
Timeless Diamond Jewellery Collection–Complete your Diwali celebrations even more radiantly with our gorgeous Diamond Jewellery collection with designs that flawlessly blend timeless craftsmanship and new-age design. The magnificently shiny diamonds express the imprints of our culture and the sentiments of every woman; together, they bind a story to remember.
Spectacular Gemstone Jewellery Collection- This Deepavali enhance the beautiful colours of celebration with our stunning collection of Gemstone jewellery. The gems gracefully dance within the folds of gold, celebrating the beautiful colours of life. Every gem weaves together a story crafted to celebrate the prosperity of Diwali.
Glorious Temple Jewellery Collection- Our tremendously beautiful collection of Temple Jewellery is decorated with descriptions of god-goddesses and intricate designs, symbolising respect towards our cultures. As these detailed shapes embellish the curves of this karigari, every piece is created with prosperous motifs of our culture.

This Diwali, we bring you a collection of mesmerising jewels with unique designs, intricately precise artistry, captivating colours and Malabar promises. Moreover, festivals are another reason to share happiness by giving surprises and to spend for your future; hence celebrate this Diwali with our glorious collection, filling your heart with joy and keeping an eye ahead towards your brighter future. Happy Deepavali!