Wedding is the time when you can indulge in heavy-duty shopping totally guilt-free. You can buy expensive clothes, lots and lots of shoes, luxury makeup, and most importantly, jewellery. From bridal necklaces to daily wear simple chains, from heavy jhumkas to cocktail rings, from a bold naths to delicate payals; the bride-to-be gets full liberty to buy the most exquisite jewellery pieces to adorn herself from head to toe on her big day.
But, buying jewellery for a wedding is not as easy as it seems. Many people assume that buying a bridal jewellery set is a cakewalk but let us tell you, it is one of the most challenging tasks you will ever come across. Buying jewellery for the bride doesn't just require money, it also needs lots of time, efforts, patience, and keen knowledge of different kinds of bridal jewellery.
If you lack the latter, we are here to help you. In this blog, we will tell you about the various kinds of bridal jewellery sets available in the market so that you could select the bridal jewellery set that suits your taste and budget. Even if you want to buy bridal jewellery set online, you will get all the different kind of jewellery sets mentioned in this article on various online platforms.
So, here we go-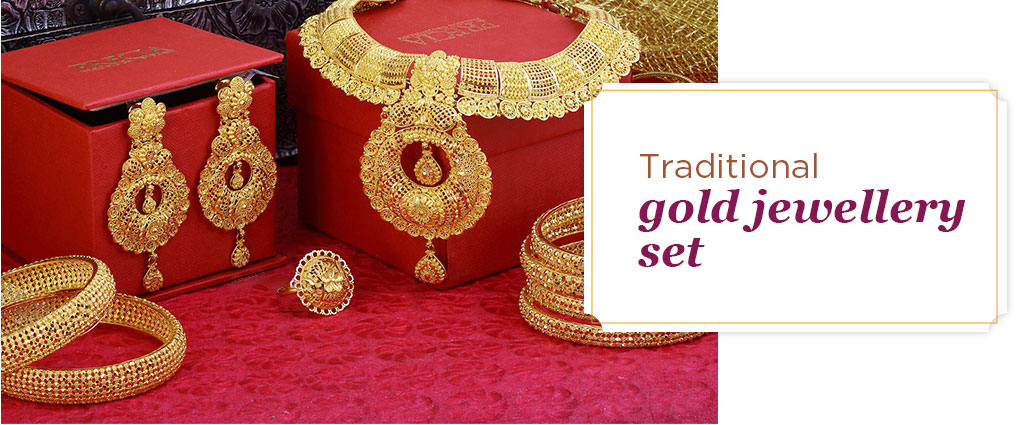 Gold is gold. No matter what kind of bridal jewellery forms the current trend, gold never loses its sheen. Classic gold jewellery was, is, and will always be the first choice for any Indian bride.
A classic bridal necklace set made in pure gold is not just a popular bridal jewellery choice for Southern brides but across the nation. Even the simplest gold necklace set looks like a million dollar on a bride. It blends well with her outfit, be it a saree or a lehenga, and enhances her overall look.
The traditional bridal jewellery set in gold comes in a plethora of designs. If you are from a southern Indian state, you can opt for temple-inspired jewellery in gold. If you are from other parts of the country, you can go for other fancier designs.
These days, gold jewellery in the antique finish is quite a rage. You can opt for a heavy antique finish bridal necklace set for your wedding and give out major bridal fashion goals.
The best thing about traditional gold jewellery is that it is often nominal as compared to other options available in bridal jewellery. You can get a beautiful gold bridal necklace set in as low as 2 Lakh.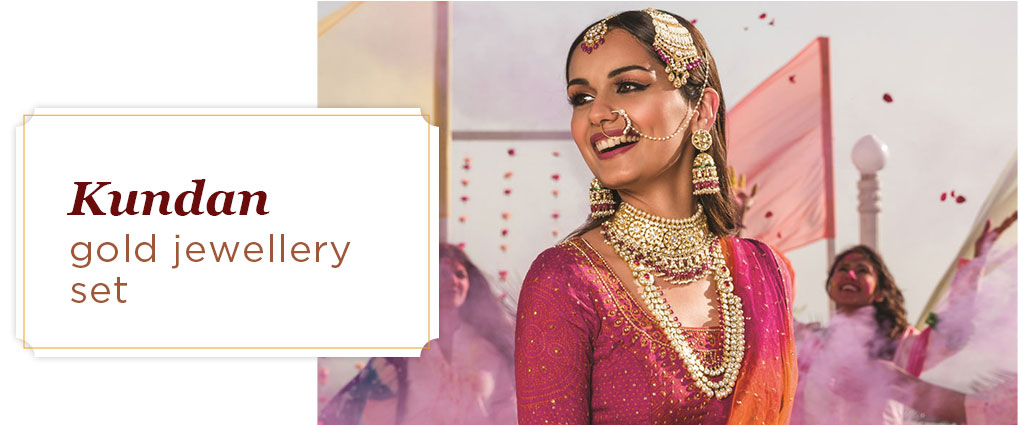 Kundan jewellery looks ethereal. It is an art form in itself. This heavy bridal jewellery has been popular since the times of the Mughals and has always been a favourite among the brides in North India. However, now, the love for this gorgeous bridal jewellery is gripping the brides from across the nation.
Today, even the South Indian brides wear for Kundan bridal jewellery set in their reception, if not during their traditional pheras.
Kundan jewellery set comprises of beautiful glass stones worked into eye-catching designs and settings. Gemstones like sapphires, rubies, and emeralds are extensively used in Kundan jewellery sets.
You can buy a Kundan jewellery set studded with precious gemstones in contrasting colours with your bridal outfit and create a style statement.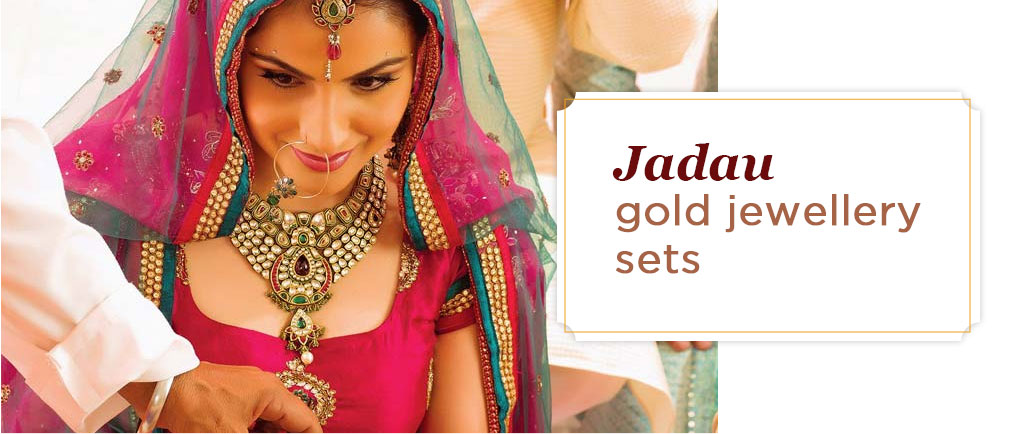 Jadau jewellery is quite similar to Polki, Kundan, and Meenakari. It is actually an amalgamation of these three jewellery styles resulting in something different and extremely exquisite.
Jadau jewellery has been popular since the Mughal era and it still hasn't lost its fans. It is intricate and looks very rich.
Beautiful stones cut precisely in different shapes and patterns are engraved on a base made up of pure gold. The stones are then enamelled to give the set a final finish.
Jadau jewellery is always very expensive but, spending on it is worth it.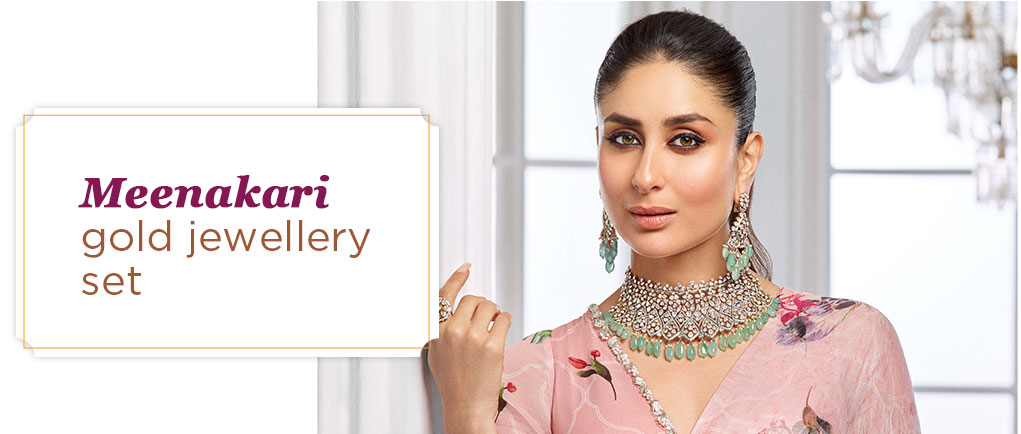 Meenakari is one of the most beautiful arts whereby metal surfaces are enamelled with gorgeous natural motifs like animals, peacocks, flowers, etc.
This is one of the most vibrant and colourful bridal jewellery and hence, a perfect pick for functions like Haldi, Mehendi and Sangeet. These beautiful jewellery pieces go well with any bridal outfit.
If you are not wearing a meenakari bridal jewellery set at your wedding, you must make it a point to include it in your wedding trousseau. You can wear it with simple sarees to accentuate your overall look. These lightweight and gorgeous sets can be worn to any simple party or get-together. You can flaunt them in your post-wedding soirees and garner lots of appreciation.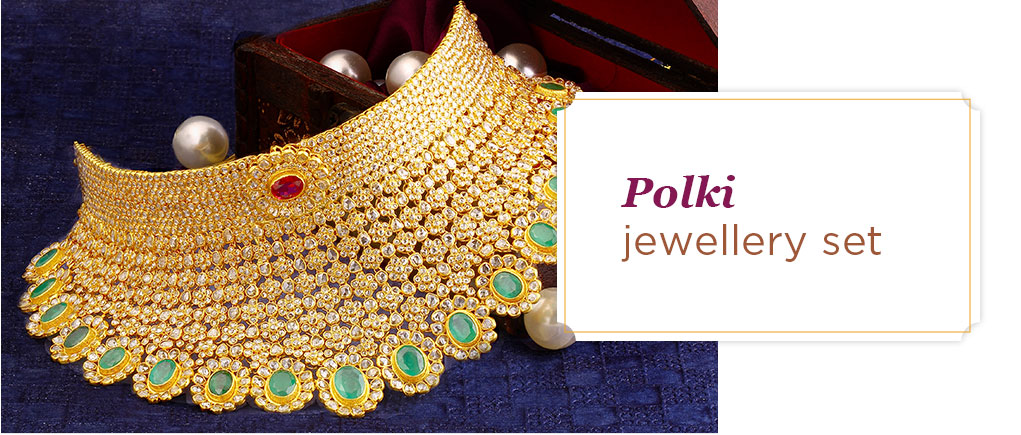 Here comes the most pricey bridal jewellery set- a polki diamond jewellery set. Polki jewellery is somewhat like Kundan but it incorporates the use of natural uncut diamonds. The diamonds are cased in traditional patterns to create the finest jewellery pieces. If you compare the price of other kinds of bridal jewellery sets with price of a polki jewellery set, you will find a massive difference which can be accredited to the use of uncut diamonds. However, if you do not want to over-splurge; you can look for lighter jewellery sets. You will certainly find many options. You can even buy a polki bridal jewellery set online for your bridal trousseau.
Polki jewellery sets are perfect for you if you want something different from the traditional bridal gold jewellery. The diamond-set looks extremely ethereal. The natural shine of uncut diamonds simply takes the breath away. You can further mix and match the polki set with rubies, emeralds, and other colourful stones.
So, now that you know what all you can get your hand on, do not wait any longer. Visit your favourite jewellery store or buy bridal jewellery set online in all these different patterns.

Flaunt these bridal jewellery sets and become the most gorgeous bride.